ADTRAN was incorporated in 1985 and began operation in 1986 in Huntsville, Alabama.  ADTRAN's corporate headquarters and principal administrative, engineering, and manufacturing facilities are located on an 80-acre campus in Cummings Research Park, the nation's second largest science and technology community. In addition to Huntsville, the company also has engineering facilities in Phoenix, Arizona, Mountain View, California, and Ottawa, Canada. With superb talent and excellent management, the company has steadily grown to a workforce that now approaches 1,700 employees worldwide
ADTRAN has been improving telecommunications with smart solutions and innovation for more than 25 years.  In the world of broadband, ADTRAN is the reliable business partner you can trust to build the high-performance network you need to compete in today's challenging business environment.
ADTRAN solutions bring together voice, messaging, video, and desktop applications designed to enable companies to adapt quickly to market changes, increase productivity, improve their competitive advantage, and deliver a rich media experience across any workspace.  By unifying your communications, you can improve productivity and collaboration to gain a competitive edge.
ADTRAN solutions enable converged voice, data, video, and Internet services
ADTRAN's broad customer base with solutions widely deployed by carriers and businesses of all sizes, worldwide
ADTRAN is IP-based communications services to telecommunications service providers
ADTRAN will improve your communication among employees, customers and suppliers
ADTRAN gives you access to the network and information from anywhere, anytime, any device
ADTRAN NetVanta 7000 Series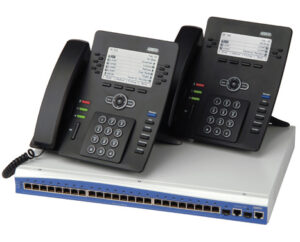 NetVanta® 7100 is an integrated IP data networking and telephony solution designed to simplify Voice over IP (VoIP) and IP telephony for business locations of up to 100 employees. This one-box solution combines multiple data and voice functions into a single, affordable platform. The ADTRAN® NetVanta 7100 IP Communications Platform includes a router, 24-port Power over Ethernet (PoE) switch, firewall, Virtual Private Network (VPN), Wireless LAN controller, SIP Gateway, and business-class phone system with integrated voice mail and multi-level automated attendant.
PBX and Key System – The NetVanta 7100 IP PBX functionality includes SIP-based telephony features, voice mail, multilevel auto attendant, caller ID name/number, classes of service, trunk groups, music-on-hold and overhead paging. Additional call options include call coverage list and forwarding of calls to an outside cell phone. The NetVanta 7100 also provides email/voice mail integration and enhanced communications productivity by enabling voice mail messages to be sent as .WAV files to email.
SIP Trunking and Networking – The NetVanta 7100 supports SIP trunking to dynamically combine voice and data across a single SIP link to the service provider. The NetVanta 7100 also supports multisite SIP networking for linking sites together to provide direct dial between sites and reduce inter-office communications costs.
Hardware and Software Platform – The NetVanta 7100 is powered by the ADTRAN Operating System (AOS), and integrates the functionality of ADTRAN's highly successfulNetVanta 7100 IP Communications Platform NetVanta switches and routers. Data networking features include a stateful inspection and SIP-aware firewall, IP router including DHCP client/server, multiple routing protocols and Layer 3 QoS. The integral switch provides 24 powered (802.3af) 10/100 Ethernet ports, with 802.1Q VLANs, 802.1p Class of Service, and VQM making the system fully ready and ideal for VoIP applications. Additional PoE switches can be uplinked to the NetVanta 7100 to increase the physical Ethernet port count and capacity to 100. The NetVanta 7100 chassis includes two analog trunk and station interfaces and two expansion slots. For additional trunk and station connectivity, the NetVanta 100 offers several Voice Interface Modules (VIMs). These include a four-port analog (FXO) trunk module, TI/PRI trunk module which supports voice or integrated voice and data, and a four-port analog (FXS) station module. A combination module which provides two analog stations and two analog trunks is also available.
Unified Communications ADTRAN's Business Communications Systems provides a complete IP communications system with the NetVanta 7000 Series, hardware-based IP PBX bundled with the software-based Unified Communications (UC) solution with full unified messaging for voice, fax and email. This solution easily integrates with existing Microsoft Outlook® and Active Directory® platforms for click-to dial, inbound/outbound IVR, conference server, fax server for desktop faxing, text-to-speech, find-me/follow-me, as well as a host of other features to enable business communications.
NetVanta 7000 Series Brochures
NetVanta 7000 Series Products Brochures

IP Desktop Brochures

Conference Units
NetVanta 7000 Series User Guides
IP Desktop

VoiceMail
Cisco VS ADTRAN – Router Performance, No Comparison
Adtran PoE Switches and Routers
NetVanta Power over Ethernet (PoE)

NetVanta 1200 Series – Managed Ethernet Switches for Cost-effective Local Area Networking (LAN)

NetVanta 1300 Series – Single Slot / 24-port Ethernet Performance-enhanced Multiservice Router
NetVanta Multiservice Access Routers

NetVanta 1300 Series – Single Slot / 24-port Ethernet Performance-enhanced Multiservice Router
NetVanta 3400 Series – Single Slot / Dual Ethernet Performance-enhanced Multiservice Access Router
NetVanta Modular Access Routers
NetVanta 3200 Series – Single Slot /  Single Ethernet Modular Access Router Supporting up to Two T1's

NetVanta 3300 Series – Two Slot /  Dual Ethernet Modular Access Router Supporting up to Three T1's

NetVanta 3400 Series – Single Slot /  Dual Ethernet Performance-enhanced Multi-Service Access Routers

NetVanta 4000 Series  –  Three Slot /  Dual Ethernet Modular Access Router Supporting up to Eight T1's

NetVanta 5000 Series – Six  Slot /  Dual Ethernet Modular Access Router Supporting up to 2 Unchannelized T3's