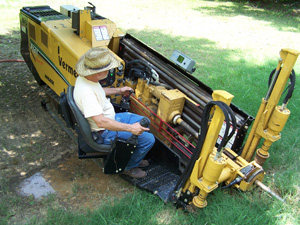 Founded in 1982, CDE has been supporting the Telecommunication industry and is committed to providing top quality personnel combined with state of the art equipment with our primary focus on customer satisfaction.  The Telecommunication industry is among the most rapidly changing in the economy. With these rapid changes, CDE continues to stay updated with the technical skills required to meet or exceed the economies growing needs. CDE has successfully completed hundreds of IT/telecom copper and fiber cabling design projects for the past 30 years.
CDE's  Outside Plant department has the equipment to handle the placement of conduit, fiber optic, and coax cable. CDE is a recognized Fiber Optic Services Company providing OSP Design and Engineering, Construction Management, Inspection, Splicing, Testing, and Maintenance. Our personnel includes a BICSI-Certified RCDD on staff which shows that we clearly understand the designing of underground pathway systems for single and multi-mode fiber, high pair-count copper, and coax trunk cabling.
From single-site to large complex campus environments, we can effectively address your cable design needs for campus area networks with our directional boring machines, trenchers and excavators. Structured communications cabling systems include copper, fiber and coax horizontal, backbone and riser cabling, cable termination/management, and cable administration.
We are staffed and equipped to install pipe underground for telephone, fiber, electrical and other utilities.  We repair damaged telephone cable and fiber optics.
CDE Services Include
Fiber Optic Cable Installation – Placing, Repairing, Splicing, Terminating and Testing
Cat6 Plenum and Non-Plenum Cable for Video, Paging, Voice and Data Networks
Installation of Patch Panels
Placement of Conduit
Wireless infrastructure and access point locations.
What is BICSI-Certified RCDD?
The Registered Communications Distribution Designer (RCDD) certification is globally recognized within the telecommunications industry, as a designation of the exceptional qualifications and expertise of the individual, in the design, integration and implementation of telecommunications systems and their related infrastructure components.
The RCDD certificate is proof that the certificate holder knows how to design the network cabling inside buildings. The RCDD certification program is governed by an organization called the BICSI, or Building Industry Consulting Service International. This organization provides information about telecommunication networks, such as phone and Internet cables. The organization hiring a construction contractor may require that the builder has an RCDD-certified person on staff. RCDD certificates are granted to licensed professionals. They are required to sign off on the architect's design plans, so they have responsibility for the building design and network capabilities of the structure.
RCDD certificate holders oversee several areas in building construction. They design the installation plans for copper wiring, grounding and fuse boxes, as well as fiber-optic cables.
The RCDD designation is becoming ever more recognized and required…by many private and state organizations.